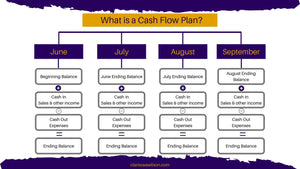 Clarissa Wilson LLC
Cash Flow Plan
Regular price
$7.00
$0.00

A cash flow plan is a way of predicting how much money your business is going to make and spend each month, to make sure that you don't run out of cash. 
If you don't have cash in your business, then you can't pay your bills, you can't pay your assistants, you can't pay your taxes and you can't pay yourself. 
You have a business, so the cash should be flowing. 
This is a plan that you set months in advance (but it can still be changed) to actually plan out how you are going to be making money in your business. 
You know how there are certain business owners who are just flying by the seat of their pants and launching products and courses and services whenever they need to without a plan? 
These business owners do not have a cash flow plan in place. 
Get your cash flow plan spreadsheet today. 
NOTE: Nothing will be mailed to you. You will get an automatic download of a Google Sheet with PDF directions. 
---